The European Lifesaving Championship will be available live worldwide on any device
RFESSMedia will offer free and in full high definition of the competition
The Lifesaving European Youth and Open Championship by Nations can be followed live from anywhere in the world through RFESSMedia, the multi-device television that the Royal Spanish Lifesaving Federation launches coinciding with the first major event of this sport after the peak of the pandemic and that brings together from this Sunday in Castellón de la Plana to 237 lifeguards from fifteen countries.
RFESSMedia is available for free in the stores of the main operating systems, so it can be downloaded in the application centers of Samsung and LG, for other brands that use Android on Google Play and is also available on Amazon.
For mobile devices, phones and tablets, it is also available on Google Play for systems using Android and on the App Store for iOs.
For those who wish to follow the Championship through a computer, they can do so through the link https://rfessmedia.tv.
In this way, the signal of the competition to be held between Sunday and Wednesday at the Municipal Olympic Pool of Castellón and between Thursday and Saturday at Gurugú Beach will take on a multi-device format unprecedented in lifesaving.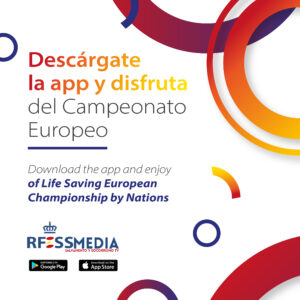 The broadcasts will begin with the rebroadcast of the opening ceremony on Sunday 12 at 10 a.m. (CEST, UTC+1).
RFESSMedia is the lifesaving television platform managed by the Royal Spanish Lifesaving Federation, an initiative to disseminate the sport and federative activity and promote the culture of accident prevention in the aquatic environment and the preservation of life in risk situations.
Although it was born coinciding with the Lifesaving European Championship by Nations, the platform, which is based on the OTT (Over the top) format developed by the company Interactvty, includes an important container of audiovisual information on Spanish lifesaving, which will increase over time and covers various facets of the sport and federative activity. 21/9/11